Back in 2016, I was working at Autodesk on one of their few consumer products, SketchBook. SketchBook was a sketching application aimed at making the digital drawing process as smooth as pen and paper.
As everyone working on a subscription product, I wanted to figure out:
What our core subscription metrics were – LTV, MRR, churn, etc.
Actions to take based on understanding our subscription data
Benchmarks against similar businesses to know how we were doing
As part of this effort, Price Intelligently (now named ProfitWell) was one of the companies I found during my research process to decide on platforms to get us up and running with subscription analytics very quickly. It's been 4 years since then and their business has evolved in many ways.
While I don't know their revenue, they were at $8M in ARR in 2017 and had been growing 100% YoY since inception. Doing some quick math would put their 2019 revenue at $32M (this is my guess and not confirmed). The best part, all of it is bootstrapped – no spend on marketing, except employee headcount. This means they completely grew through earned and owned media, and their LTV to CAC ratio is around 20 to 1.
So how did they do it? What's their secret sauce to growing this quickly? And what does ProfitWell do that makes them so attractive? In this post, I uncover it all for you. 👇
A booming subscription economy 💥
ProfitWell is an industry-leading subscription optimization software. They started with subscription analytics and used that as a means to price intelligently (hence the name), but have since expanded their products to include ones that help with retaining more customers, benchmarking against the industry, and more.
Entering a market with a specific product has to be at the right time, especially when there is a large growing demand for the need for such kind of services.
With the release of Stripe powering the internet subscription economy being founded in 2009, ProfitWell's services came at a good time when such kind of businesses was also starting to become more commonplace. Adobe was a big player moving to the cloud and subscription, which all dates back to 2013. ProfitWell was founded in 2012.
Put simply, they got into the subscription game right as it was starting to take off 🚀. Just look at the subscription economy index by Zuora below – it charts subscription sales vs. the S&P 500 sales and US Retail Sales.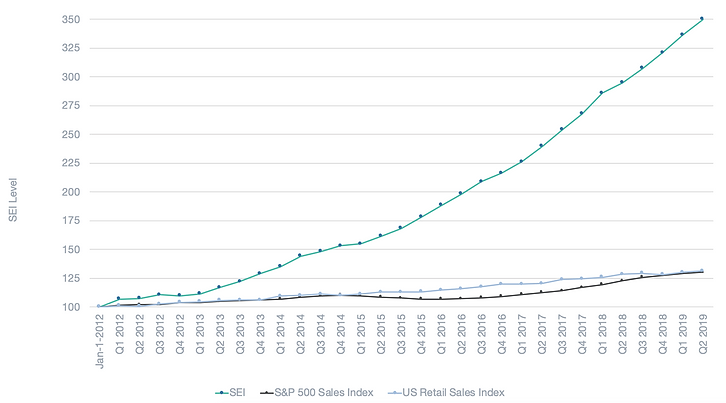 Deciding to offer ProfitWell for free 🚨
Patrick Campbell, ProfitWell's CEO, had the hard task of pitching their core product at the time, ProfitWell – an analytics dashboard for tracking core subscription metrics (think ARR, MRR, churn, LTV, etc.), to be given away for free.
While back in the early days of the company this may have been seen as a risky decision (if you've spent all this time developing a best in class analytics platform, why give it away for free?) – it seemed to have paid off.
What giving away ProfitWell as a freemium model did was drive in a large number of subscription companies to use and connect their data into the platform. As their core competitors at the time were charging for their services, this gave ProfitWell a way to significantly lower the barriers to entry to try their product, and access to data (read more here).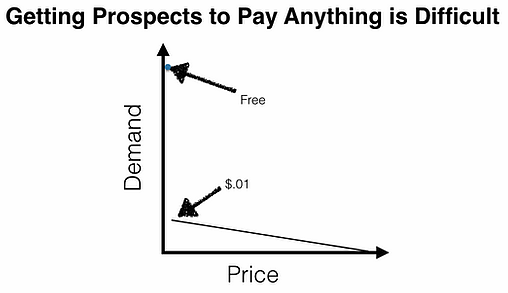 While this approach could have killed their business, ProfitWell's team did the research to better understand what their customers' willingness to pay was. They found that on average it was $50/month with larger companies sitting at the higher end of that at $100-300/month. With only 10,000 subscription brands in the market at this time (nowadays this number is more like 40,000+), they found the total addressable market was a bit too small. Add on that scaling this using an inside sales model also would prove to have difficult economics.
Up until this point, this all makes sense… but ProfitWell still needed a way to make 'revenue well' – if I can put it over like that. They spent all this cash on hiring engineers to build a leading subscription analytics tool, then gave it away for free. So how do they still have a business?
Finding expansion opportunities through helping their users grow 📈
The ProfitWell team had a lot of free users using their product to measure their subscription business. That gave them a look at what companies were struggling with – which they used to figure out what adjacent services or tools to build to help their user base. It also meant that thousands of subscription companies were accessing their product frequently as a way to understand their business – building trust.
ProfitWell used this to grow their consulting style service around a data-driven approach to pricing.
Most subscription products base their pricing on a guess or a reactive approach. For example, they look at competitors, decide a price, and then launch and measure. The only way to tell if they are priced too high or low is to then run a price test where they increase the price and measure what happens to sales. While this is an approach, it still means that the original price was a guess and it could take tons of experimentation to figure out what the most optimal price is.
Since the founding of the company, their pricing methodology was the core of the products that they wanted to sell. But it would've been nearly impossible to do this without first building the trust of creating an accurate tool for subscription companies to rely on.
Today, that same approach has led to the launch of different products to expand their revenue – ranging from Retain – a product around credit card failure to Revenue Recognition – an audit-proof revenue recognition machine.
This all seems to be working for ProfitWell, especially within the United States as shown by their Google Trends interest. Their competitors, such as ChartMogul have also experienced growth, but have focused more on different countries as a result.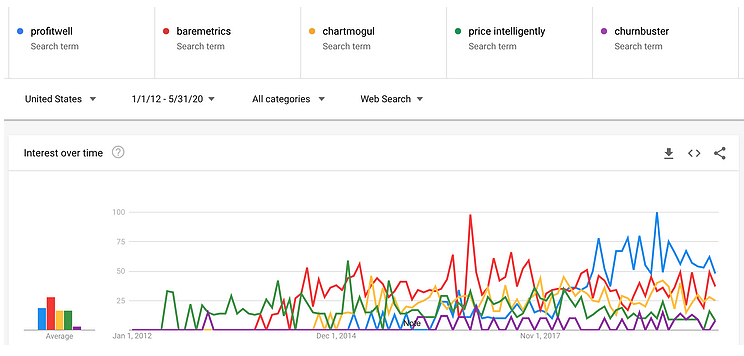 I've painted a picture of how ProfitWell has become a leader in the space – but I haven't really answered the question of how they were able to drive in demand and adoption without any real paid marketing. So, let's dig into that!
Using the aggregated ProfitWell data to build a competitive moat 🎯
Since ProfitWell had a massive database of companies using their free product to measure and analyze their subscription data, they were able to leverage this in aggregation to become one of the best places to understand what subscription companies were doing. By grouping and analyzing the data, they got insights into how 14,000+ subscription companies are performing across nearly all verticals and sizes.
Using this trenchful of data, they began to publish all forms of content to leaders and operators within the subscription space on this very topic. How can you predict churn? How do you measure willingness to pay? Should you offer an annual plan or only a monthly plan? How do you mitigate churn?
All of these are questions that the ProfitWell blog answers using data and has led to them becoming the go-to-place for subscription metrics insights. A quick look at their estimated website traffic of over 165k visits a month proves that this is true.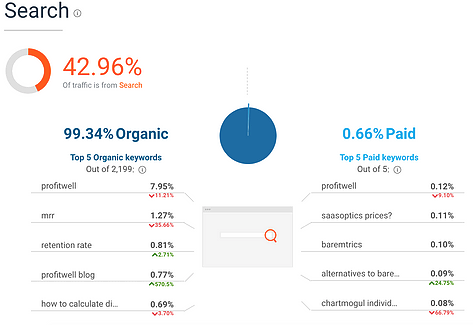 Knowing that this content was a great value add to the subscription marketplace, ProfitWell's team took this one step further and launched a Benchmarks product for brands to see where they stack up against the industry. This is similar to the benchmark reports from Mixpanel and other analytics companies, except more actionable as you can contact their sales team to see how to optimize pricing, decrease credit card churn, etc. as a way to move the needle.
ProfitWell is expanding on this now by moving deeper into video content, launching the Recur Network and Recur Now, one of the world's first media networks for subscription company operators.
Speaking at conferences to build the ProfitWell brand 🔊
Early on, while still building the content engine, Patrick Campbell spent time on public speaking engagements as he became a thought leader in the world of subscription pricing. This led to significant opportunities for ProfitWell to build a brand and get super focused on the industry that they operate in.
Patrick has spoken at numerous conferences – including but not limited to Traction Conf, Startupfood, SaaStock, Heavybit, and 500 Startups.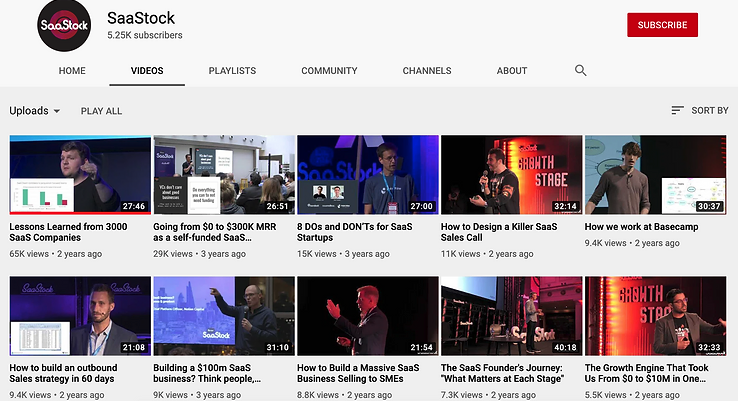 The reason I wanted to highlight this channel is that Patrick's talk at SaaStock today ranks as the #1 viewed video on the SaaStock channel with over 65K views. Not to mention how nicely the title fits for this post: Lessons Learned From 3000 SaaS Companies.
Takeaways
Hopefully, this post was useful and you got some value out of it! ProfitWell has built a juggernaut of a start-up. In my opinion, they've got a competitive moat in their data and I'm excited to see where they go from here.
Some key points to wrap up:
Spend time in understanding the customer's willingness to pay. In ProfitWell's case, they could have very well just ended up as another subscription analytics platform. Instead, now they have a great value-oriented business powered by data from their subscription analytics offering as they realized that charging for it wasn't the right go to market approach for them.
Thought leadership is more than just writing content, it's about providing value. One of the reasons I love ProfitWell's brand today is because of how much goes into their content and the intent behind it isn't really to grow their brand. Instead, they provide insights that help subscription companies grow. Any type of content that helps you get better at your job and build your business is worth reading.
Finding expansion opportunities by providing adjacent value. Once ProfitWell had a large segment of subscription companies using their product, they found adjacent opportunities to upsell them. This today makes the bulk of their revenue growth.