ClickUp is a work productivity platform that managed to scale from $0 to $20M in ARR in under two years. What makes this growth even more astonishing is that they did it in the broader project management and work productivity space – one that has ample competition from well known players like Wrike, Asana, and Monday.com.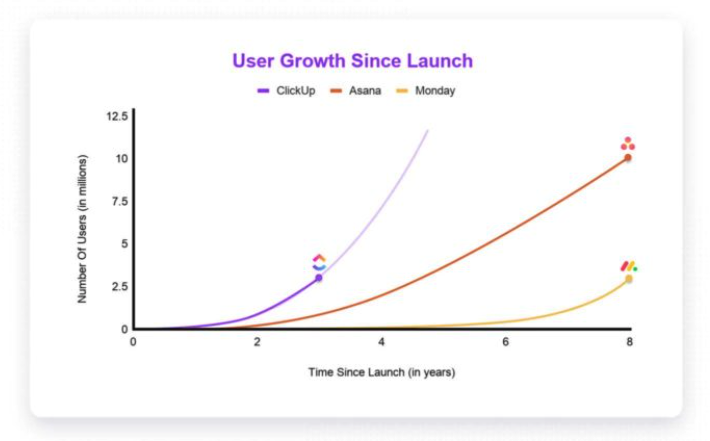 As one of the fastest growing SaaS products ever, in this post, I dig into the framework for how they did it.
ClickUp: a short history
ClickUp came onto the market in 2018, founded by Zeb Evans, a serial entrepreneur, who was previously ideating on building a Craigslist competitor. While in the process of doing that, the team ended up building this internal tool for managing their work, which became ClickUp.
The premise for ClickUp was simple: teams had many tools they were each using to manage their work internally – slides, docs, project management boards – which all were part of a separate product. ClickUp was born out of the pain point of managing all of these tools, which led to wasted time.
Since its founding, ClickUp has raised a total of $137.5M from Craft Ventures and Georgian.
The ClickUp growth story: step by step
Zeb outlines it himself on the ClickUp blog but the approach to growth in itself has been very simple:
Win free, organic users
Listen to feedback to improve the product
Ship quickly and drive promoters, layering on paid when needed
Here are specific ways that they executed on this plan.
Winning users with organic content
A blog post a day
Early on ClickUp focused on building their user base by writing content to help teams learn how to manage projects, work in a remote environment, how to be agile and move quickly, and more.
ClickUp's team has consistently for years published roughly one article per day, which gives it a wide base of content to optimize for a wide array of keywords. Today, this captures over 60K keywords, including top placements for high intent items like 'free project management software', 'free task management software', and 'project timeline software'. This includes both long and short tail keywords.
Competitor comparison pages
Layering on top of this, ClickUp built out a set of pages to compare itself to all competitors, further enabling it to rank for keywords related to alternatives. This includes deep dives into major alternatives like Trello and Asana to smaller ones like Flow and Atlaz.
Layered on top of specific competitor comparison pages, they have a hierarchy guide that compares all the major competitors to show users who are shopping around how they're cheaper with more functionality. This is also backed up with social proof of brands using ClickUp on the page.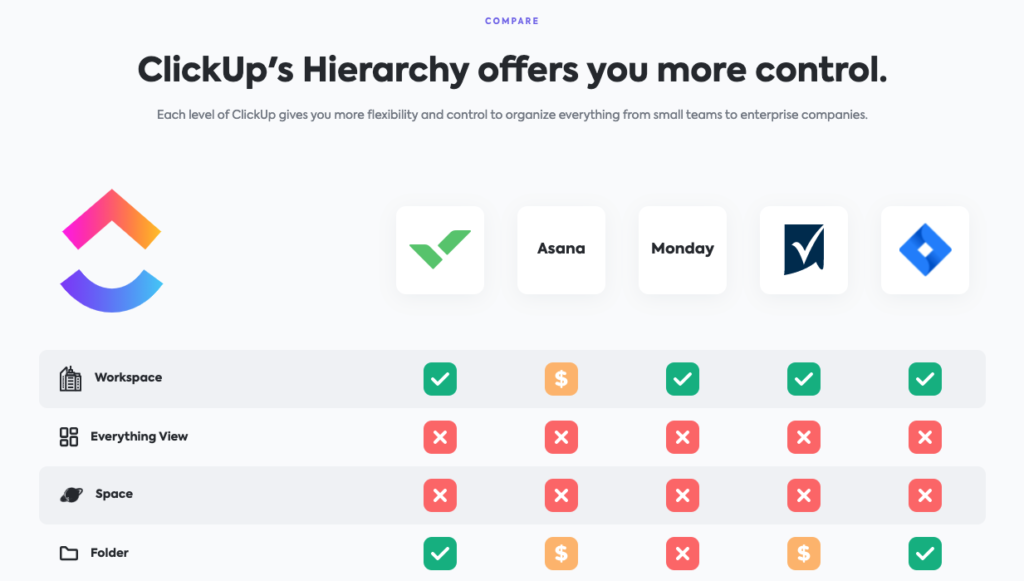 By producing and optimizing a base of content over time, ClickUp is able to generate in excess of $12M worth of free clicks every month.
Engaging on Reddit and Quora
As ClickUp started to gain traction, frequently potential users would turn to Reddit and Quora to get another opinion on the best tool for their specific use case.
ClickUp recognized this and used this as an opportunity to engage with these communities and continue to elevate their brand, be personable and drive sign-ups.
Listen to customers to improve the product and user experience
Low barriers to entry
ClickUp adopted a product-led growth strategy relying on a freemium user base. While they are growing sign-ups through scaling organic efforts around content, they also make it seamless for a user to get started.
Just looking at the above the fold of ClickUp's homepage, they distinctly call out having no credit card required, being free forever, and social proof with 10,000+ five star reviews across review sites like Capterra, G2 Crowd, and GetApp. Of course, ClickUp will have some negative reviews (every product does), but they call out the sheer quantity of five star reviews. Scroll below the fold and you're reinforced with copy "Join 200,000+ highly productive teams" with the logos of well known brands.
This altogether makes it easy to entice a user to take that action of trying ClickUp for free, which only requires an email to get started.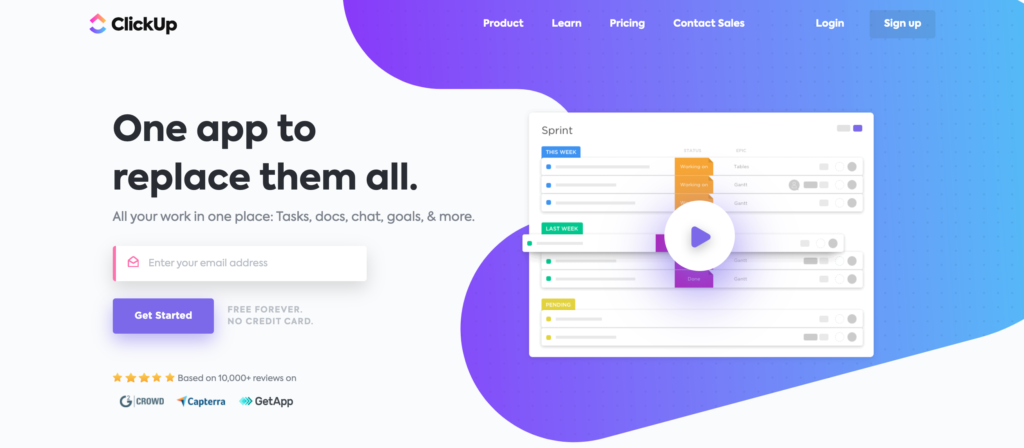 Personalizing based on intent
Once you create an account for ClickUp, the first thing they do is pass the user through an onboarding survey that helps to learn about who you are, how big your team is, and if you're using any pre-existing tools that you should be importing tasks over from. The intent here is to help you get started and set-up in ClickUp quickly and efficiently. One other step is to invite your teammates right into ClickUp, so that they can also grow their pool of users.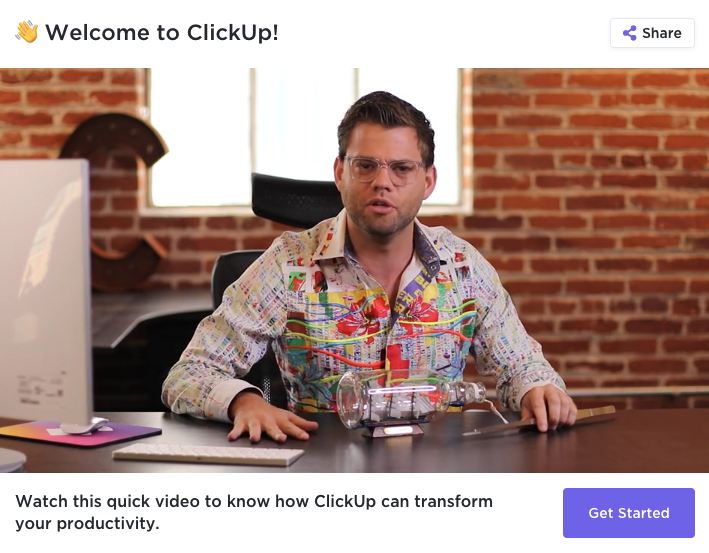 Next, once you're inside the product, ClickUp launches you into a 1 minute clip of Zeb explaining the purpose of ClickUp, which then prompts you to pick a template from their suggested options to get started. These represent the most common used templates for managing your work, making it seamless to jump right into the feature. This prompts another widget which explains the product more in depth, with a list of steps to complete.
What happens if you close that widget? ClickUp re-entices you with $10 in the form of credit for their paid plan. This is a free and seamless way to get a user to finish their onboarding and activate successfully into the product!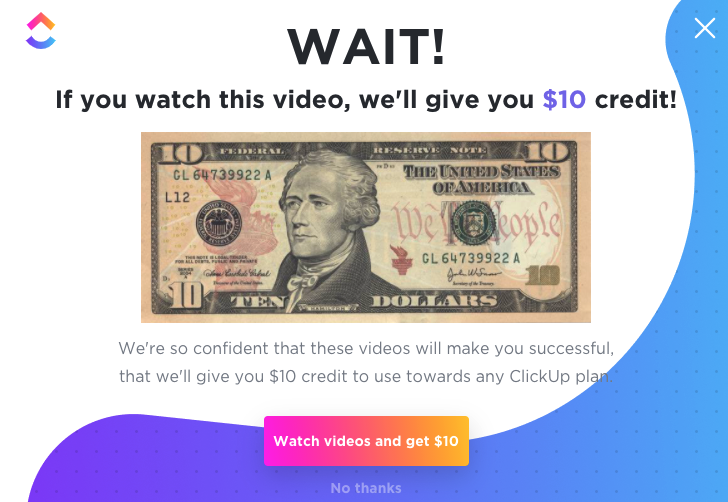 Altogether these actions make it quick and easy to understand the value of ClickUp and get started.
120+ templates to get started
Not only does ClickUp try to get you into the most relevant template upfront, but they have a library of templates to choose from whenever you go to add something new to your space. These templates are broken down by type, level, and use case, so you can easily find the most relevant ones for you – whether that is planning an A/B test or coordinating a budget.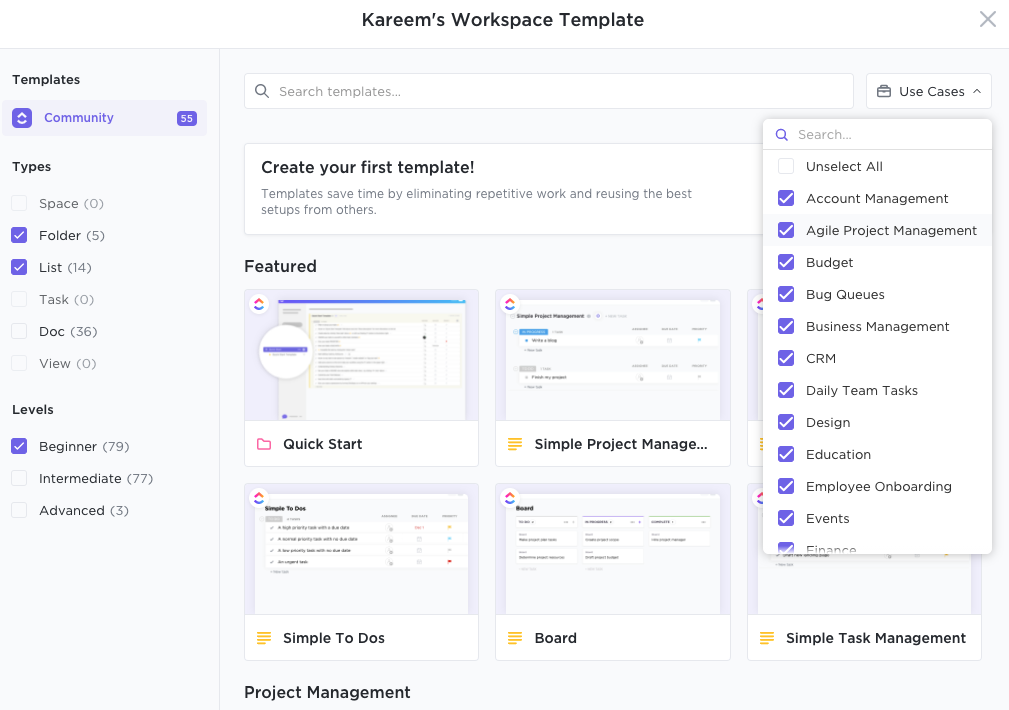 Always on educational content
To ensure that ClickUp can help at any point in time, ClickUp has a set of always on educational content that anyone can revert back to viewing.
This also includes in depth videos around specific industry use cases like marketing, construction management, and more.
To add on to this, ClickUp's team also cross posts videos to their YouTube channel, which has enabled them to grow to 35k+ subscribers and also acts as a new awareness channel as a secondary benefit.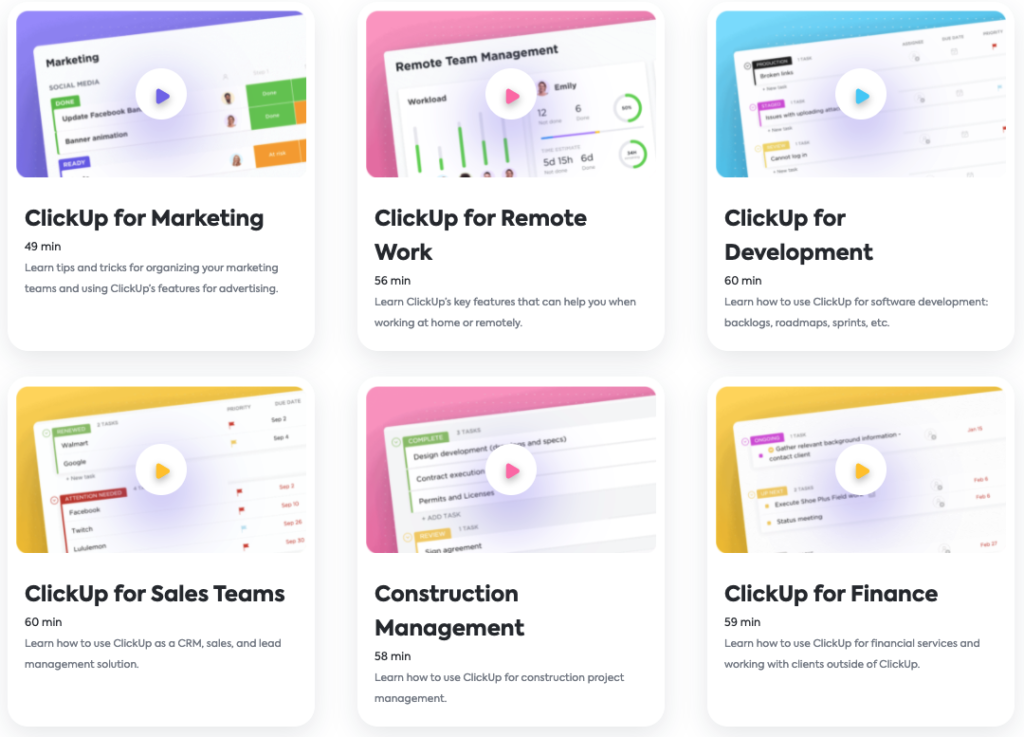 New features every week
Leveraging social channels, Canny, reviews, and support queries, ClickUp's team ruthlessly prioritizes what customers are interested in and ships new features into the product weekly.
ClickUp is so focused by this very topic that they made a whole one minute clip about shipping faster than one of their largest competitors, Asana.
Driving word of mouth and layering on paid
Promoters, invites, referrals, and more
Once someone is engaged with using ClickUp, they aim to drive these users to promote the product, which drives more organic new users. They do this in multiple ways.
The first is by making it seamless to invite your teammates into the product, thus making the platform more useful as a work productivity tool for your entire team.
The second is by offering a referral program, with incentives that you can convert into credits for ClickUp. Each new user that you drive in with your referral link enables you to earn money.
The third is by accelerating this further with affiliate program, which is similar to their referral program, but more geared for anyone (i.e. non ClickUp users) to drive sign-ups to ClickUp for a commission.
Paid advertising
Since ClickUp has seen this significant growth since inception, they have now started to layer on paid advertising, which has worked for other competitors as a core growth strategy – namely Monday.com, another work productivity tool.
ClickUp's advertising strategy is very focused on its main differentiating point and vision – that you can use one app to replace all your productivity tools for work. The way they get this message across varies from comedic skits, ratings/social proof ads, or feature overviews. You can see the entire log of the ones run on Facebook here.
But this one below is one of my favorites, particularly as a marketing person myself 👋.
Takeaways
ClickUp is a beast that is defining what it means to be a product led growth company. By staying focused on their mission to give back people 20% of their time a week by bringing all their work productivity tools into one app and developing their flywheel, they have been able to grow to $20M+ in annualized recurring revenue within two years. This is not to mention their millions of free users that they already have and will continue to optimize to paid plans.
To summarize, the ClickUp growth strategy follows this flywheel: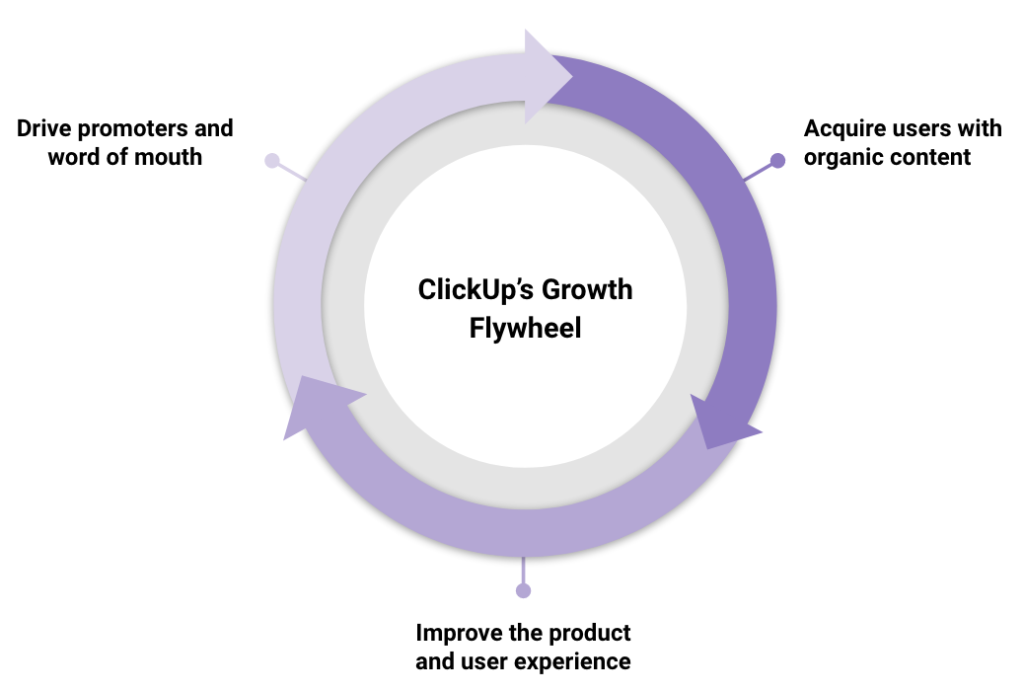 Acquire users with organic content – driven by SEO, content marketing, and being involved in forums
Improve the product and user experience – ensure every new user is finding value and deliver new features weekly to continue to do so
Drive promoters and word of mouth – accelerate the growth by enticing promoters and driving virality.